How Are we different?
Corporate
Values

Our tradition and principles are ethical in our business approach. We know what we are doing while ensuring the achievement of long-term goals and core values of the company.
Transparent Business Approach

Transparency in work has always been our prior principle. There is no hidden cost and you won't be double charged for the service. We choose to be real, rather than to pretend.
Attitude of Giving and Helping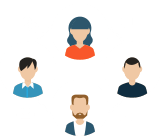 We put our customers' requirements first. While preserving a good working relationship with them, we engender an attitude of giving and helping, which fuels our corporate values.
Customer Relationship

Our clear communication process and beyond the verge, thinking enables us to deliver expected quality and satisfaction.
Progressive and Dynamic Attitude

We are a way beyond conventional methodologies. Our outlook is to think out of the box while investing in new framework and innovative techniques.
Our Mission
To help every organization by developing and optimizing systems using software-development life cycle that improves quality and performance dramatically.
We assist you to grow your business through savvy development and designing strategies while executing projects, which may help you in growing your business.
We provide Simpler, Faster and More Cost-effective results as compared to market. To accomplish this goal, we support development from project initiation to its launch.
We strive to earn the respect and trust of our customers. With coordination in our work, we follow approaches and evolve in the ways that always benefit our customers.
We follow productivity, integrity, and authenticity to make our customers' experiences an enjoyable one, while utilizing new technologies and preserving the quality of work.
Our Vision
To be the first choice for obtaining and optimizing operational efficiency through web based services.
Our vision is to move your business forward by taking care of technical development aspects. We constantly strive towards excellence in our services and customer satisfaction is a priority for us. Our business and technology solutions are aimed to fit your needs and drive the results you want.
We design and develop the most adapted solutions. Our customer-centered vision is based on hard work, persistence, and determination. Also, we give our best to maintain a good working relationship with our customers.